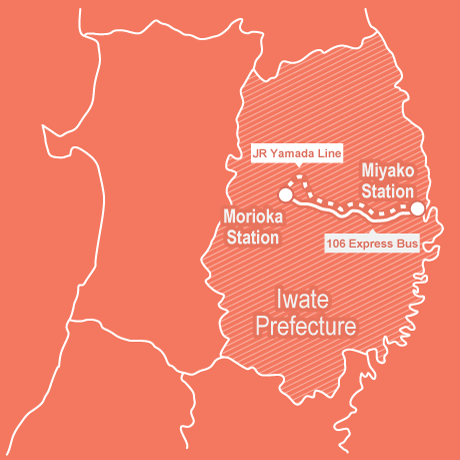 Morioka ⇔ Miyako
You can travel from Morioka to the Sanriku Coasts' town, Miyako, via the JR Yamada line or using the 106 express bus that travels on Route 106. Both rail and bus take approximately the same time of 2 hours 15 minutes.
The 106 Express bus between Morioka and Miyako has one round trip a day that stops at Jodogahama Park Hotel. (Departing Morioka 13:15, Arriving Miyako 15:35, and Departing Miyako at 9:10, arriving at Morioka 11:45) * Starting from July 31st 2019
106 Express Bus: 18 return trips per day.
JR Yamada Line: Weekdays 4 return trips, Holidays 5 return trips per day
Timetable (From July 31st, 2019)
(Simplified version Morioka, Moichi, Miyako)106 Express Bus, JR Yamada line
Bus
JR Yamada Line
Bus
JR Yamada Line
Bus
Bus
(Morioka Miyako 106 Express)
Bus
JR Yamada Line
Bus
JR Yamada Line
Bus
JR Yamada Line
Bus
Bus stop name / Station name
Toilet on-board
Weekend only
Toilet on-board
Toilet on-board
Morioka Station
(East Exit Bus stop 7)
/ Morioka Station
5:45
6:40
7:40
8:40
8:55
9:40
10:40
11:05
11:40
12:45
13:15
13:45
13:51
14:45
15:45
16:45
17:15
17:45
17:50
18:45
19:45
19:57
20:45
Prefectural Office, City Hall
5:52
6:47
7:47
8:47
9:47
10:47
11:47
12:52
13:22
13:52
14:52
15:52
16:52
17:22
17:52
18:52
19:52
20:52
Morioka Bus Center
5:55
6:50
7:50
8:50
9:50
10:50
11:50
12:55
↓
13:55
14:55
15:55
16:55
17:25
17:55
18:55
19:55
20:55
Kuzakai
6:27
7:22
8:22
9:22
10:22
11:22
12:22
13:27
↓
14:27
15:27
16:27
17:27
17:57
18:27
19:27
20:27
21:27
Yamabiko Sanchokukan
7:01
7:56
8:56
9:56
10:56
11:56
12:56
14:01
14:26
15:01
16:01
17:01
18:01
18:31
19:01
20:01
21:01
22:01
Kawai
7:16
8:11
9:11
10:11
11:11
12:11
13:11
14:16
↓
15:16
16:16
17:16
18:16
18:46
19:16
20:16
21:16
22:16
Moichi
7:31
8:26
9:26
10:26
11:26
12:26
13:26
14:31
↓
15:31
16:31
17:31
18:31
19:01
19:31
20:31
21:31
22:31
Miyako Station
8:00
8:55
9:55
10:55
11:16
11:55
12:55
13:09
13:55
15:00
15:20
16:00
15:57
17:00
18:00
19:00
19:30
20:00
20:12
21:00
22:00
22:17
23:00
Jodogahama
Park Hotel
↓
15:35
16:15
Miyako
Ferry Terminal
8:15
JR Yamada Line
Bus
JR Yamada Line
Bus
(Morioka Miyako 106 Express)
Bus
JR Yamada Line
Bus
JR Yamada Line
Bus
JR Yamada Line
Bus
Bus stop name / Station name
Toilet on-board
Toilet on-board
Weekend only
Toilet on-board
Miyako
Ferry Terminal
8:35
Jodogahama
Park Hotel
↓
9:10
Miyako Station
5:00
5:20
6:05
7:05
7:35
8:05
9:05
9:26
9:35
10:05
11:05
12:05
13:05
14:05
14:07
14:35
15:05
16:05
16:09
17:05
18:05
18:10
19:10
Moichi
5:41
6:26
7:26
7:56
8:26
9:26
↓
10:26
11:26
12:26
13:26
14:26
14:56
15:26
16:26
17:26
18:26
19:31
Kawai
5:56
6:41
7:41
8:11
8:41
9:41
↓
10:41
11:41
12:41
13:41
14:41
15:11
15:41
16:41
17:41
18:41
19:46
Yamabiko Sanchokukan
6:18
7:03
8:03
8:33
9:03
10:03
10:28
11:03
12:03
13:03
14:03
15:03
15:33
16:03
17:03
18:03
19:03
20:08
Kuzakai
6:46
7:31
8:31
9:01
9:31
10:31
↓
11:31
12:31
13:31
14:31
15:31
16:01
16:31
17:31
18:31
19:31
20:36
Morioka Bus Center
7:17
8:02
9:02
9:32
10:02
11:02
↓
12:02
13:02
14:02
15:02
16:02
16:32
17:02
18:02
19:02
20:02
21:07
Prefectural Office, City Hall
7:20
8:05
9:05
9:35
10:05
11:05
11:35
12:05
13:05
14:05
15:05
16:05
16:35
17:05
18:05
19:05
20:05
21:10
Morioka Station
(East Exit Bus stop 7)
/ Morioka Station
7:19
7:35
8:20
9:20
9:50
10:20
11:20
11:33
11:45
12:20
13:20
14:20
15:20
16:20
16:26
16:50
17:20
18:20
18:22
19:20
20:20
20:30
21:25
106 Express Bus / Morioka Miyako 106 Express
[Fare Information]
Morioka Station ~ Miyako Station
Adult/2030JPY, Child/1020JPY
* Morioka Miyako 106 express Wide View seat, business seat Adults/2500JPY, Child/1490JPY
* Up to 2 toddlers aged between 1~under 6 can ride for free with each paying Adult.
* Babies under 1 year are free.
[Boarding Place]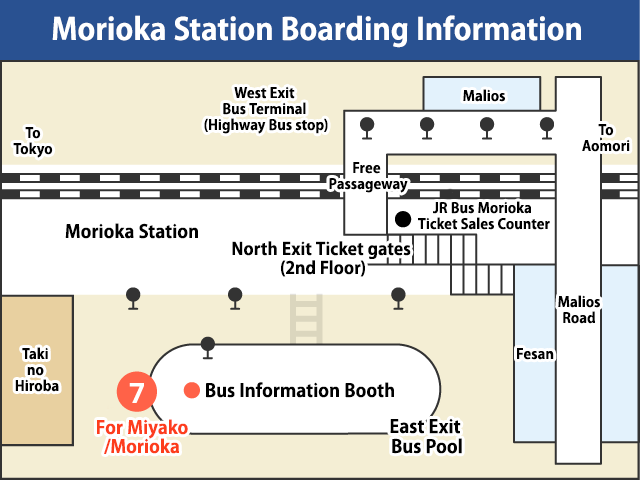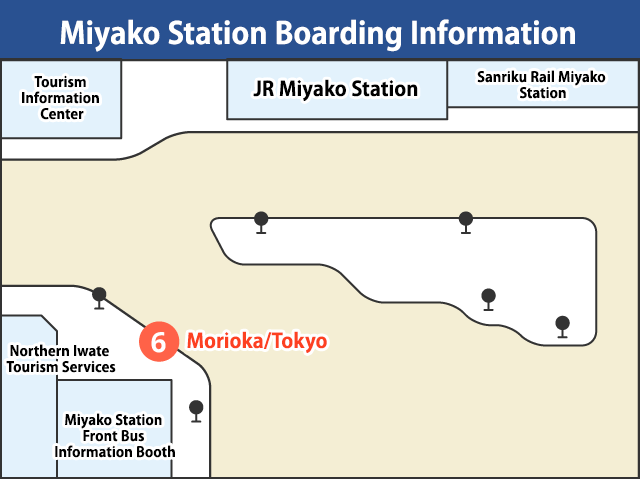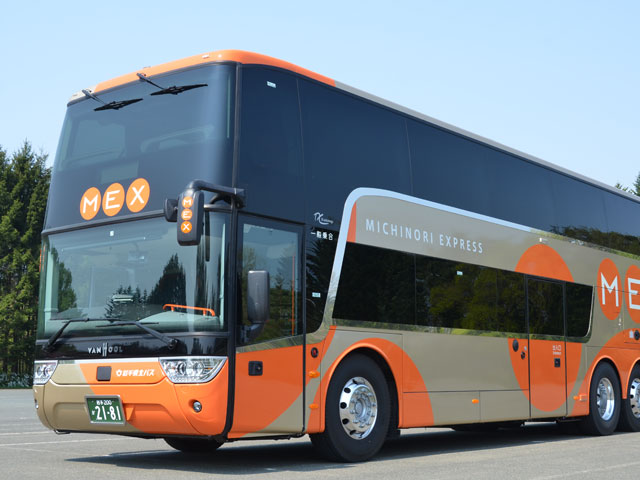 [Morioka Miyako 106 Express]
Starting July 31st 2019
Wide View seats at the front of the 2nd floor offer views from 3m high, while the 1st floor business seats offer a relaxed atmosphere.
There are outlets, USB ports and free WIFI available onboard.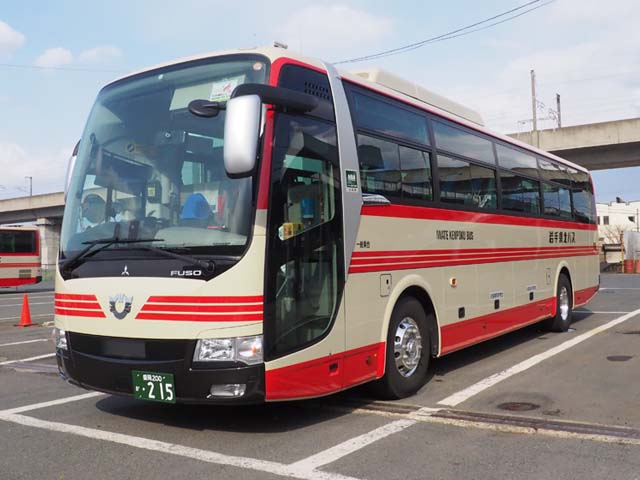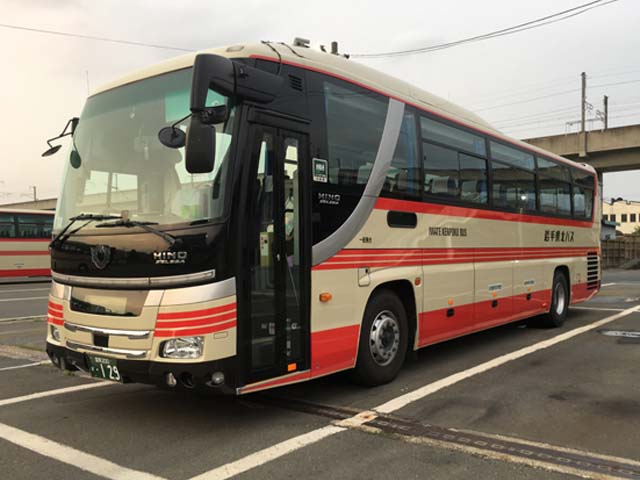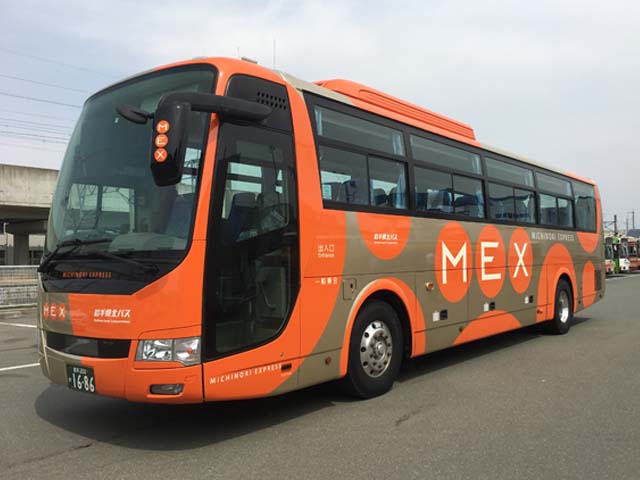 [106 Express Bus]
4 rows of seats. All non-smoking
The times that have 「With toilet」on the timetable are buses with toilets onboard
Every bus stops at Yamabiko Sanchokukan for a toilet break.
Some of the buses can be reserved online.
106 Express Bus Reservation
Seats are not pre-assigned. Please be sure to arrive at Miyako station/Morioka Station at least 5 minutes before departure time. Customers who have pre-reserved tickets will have priority boarding. (If arriving less than 5 minutes before departure priority boarding is not possible) Customers who haven't pre-reserved tickets will be able to board after priority boarding has finished, until bus capacity.
Morioka Miyako 106 Express Reservation
(Starting July 31st 2019)
All seats are reserved. Please reserve your seats online, or at the Morioka Station Front Bus Information Booth, Miyako Station Front Bus Information Booth, or at Jodogahama Park Hotel. If boarding from 「Prefectual Office City Hall」 or 「Yamabiko Sanchokukan」without pre-reserving your ticket, please receive your seat allocation from the driver.
Morioka Miyako 106 Express Reservation
Morioka Miyako 106 Express will have 1 return trip per day stopping at Jodogahama Park Hotel (Morioka Station Departing 13:15, Arriving at Miyako at 15:35 / Miyako Station Departing 9:10, Arriving at Morioka at 11:45)
Sanriku Event Information
* Pictures are for image only
* Event details may change without notice
Sightseeing spots from Miyako Station